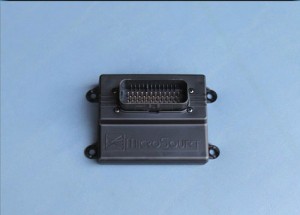 MicroSquirt – what can we tell you that you have not already heard about this extremely popular product? Designed by Bowling & Grippo, this is one hot product, used by thousands of folks for all sorts of uses from single-cylinder to massive 8-cylinder monsters! A very compact and easy-to-install controller, the uses of MicroSquirt grow by the day. Here is small listing of what you can do with the MicroSquirt:
– EMS engine controls – Microsquirt can directly control fuel and ignition for practically any engine. The MicroSquirt is based on the MegaSquirt-2 controller so it uses either the B&G and MS2-Extra firmware. There are two fuel injector outputs so the system is batch-fired which is perfect for many applications where sequential fuel is not a requirement. MicroSquirt has a flexible triggering input, it can be triggered from a distributor or a multi-tooth crankwheel. MicroSquirt can run 4-cyclinder ignition direct or 8-cylinder wasted spark mode.
– Transmission Control – The Extra folks has come up with a firmware version (free for the download) that turns your MicroSquirt into a transmission controller! Bolt this on your 4L60/4L80/5L40e/A341e/41TE/4R70/E40D/W4A33 and its performs total control of the transmission, and you are in charge of shift points, shift firmness, tire and gear ratios, and a myriad of other options. Wow!
– General I/O extender – More good firmware from James Murray, you can use the MicroSquirt in conjunction with your existing MegaSquirt-2 and MegaSquirt-3 based hardware to extend your hardware I/O. So you can now control multiple fans, read multiple analog sensors, log speed sensors, and a whole lot more. Again the firmware is a free download for use with MicroSquirt hardware.
And the best of all, the Microsquirt is priced right! There is nothing out there anywhere with all of this capability at this price – period! No wonder Microsquirt is one of the most popular MegaSquirt products, and is a powerful tool in your arsenal of complete engine control!
More information on MicroSquirt:
---
Microsquirt is available complete assembled and ready to go. Different pigtail harness lengths are available and plug-and-play harnesses for LSx engines are also available.
View Suppliers to Purchase