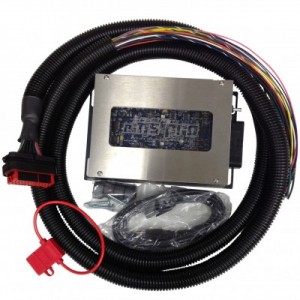 The eMS-PRO, based on the MS1 processor, is a small ECU designed to control a wide variety of engines that use Electronic Fuel Injection (instead of a carburetor). This unit is very similar to the computers that are found in all late model fuel injected vehicles. However, unlike a GM or Ford computer, eMS-PRO users are able to "customize" parameters on the computer to make it support greater horsepower, a wider variety of engine designs (4-cylinder –V-12, etc.), and a broad array of power adders (nitrous, turbochargers, superchargers). eMS-PRO features include , launch controls, boost support for turbocharger or superchargers to 40psi, two-stage nitrous oxide controls, on-the-fly VE, spark tuning (distributor, coilpacks) plus staged injection capabilities for dual fuel/octane. Along with these features, you can communicate your programmable demands through a simple USB connection to your vehicle.
Includes 8′ Universal Wiring Harness -This universal harness comes un-terminated so that you can add on the various sensor pigtails to fit your application. All wires are automotive grade TXL style wire and are individually labeled every 6". This harness is 8' in length.
Click the link below for more information on the EMS-Pro:
Learn more about the MS1 EMS-Pro and order one today!
---
The EMS-Pro is available direct from EFI Source or from any of their authorized resellers. Click the button below for a list of suppliers:
View Suppliers to Purchase