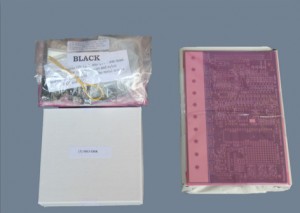 Megasquirt-3 with MS3X
This is the latest top of the range MegaSquirt ECU – the MegaSquirt 3 (MS3)! This controller is jam-packed with features found on aftermarket engine controllers costing 10X as much, yet is easy to use and configure! Extremely popular, the MegaSquirt3 is the absolute best engine controller you can purchase at this price – or any price! If you are in the market for the best, then the MegaSquirt3 is for you! Here is just a small list of the amazing features available with MS3 that are ready to go to work for your ride:
MS3 incorporates 8 fuel+2 Aux and 8 logic-level spark ignition outputs, offering full sequential fuel and spark for hi-z injectors and logic level coil-on-plug coils (or high-current coils with suitable external ignition module.)
MS3 supports full-sequential on a V8 or semi-sequential with wasted spark on a V12. Full individual trim on spark and fuel and injector timing is mappable for optimum power.
Six relay/solenoid outputs for nitrous, boost, fan control, shift light, tachometer outputs etc. Electrical switch inputs for launch, idle-up, nitrous-in etc. and additional sensor inputs for external MAP sensors or measuring parameters such as pre/post intercooler, etc are included.
On-board SD-card datalogging allows fast data storage without the need for a laptop. Built-in USB-serial adapter eases connection to modern laptops.
CAN communication ability to interface with extender boards for more inputs and outputs on the more complex installs – e.g. multiple EGT, multiple widebands, speed sensors etc.
Calibration to adapt to practically any OEM temperature sensor is straightforward and numerous wideband calibrations are supported and ready-to-go.
Initial setup is aided by test modes for the fuel and spark and by built-in tooth loggers to help diagnose incoming tach signals.
The MS3 firmware includes many 'race' type features, two stages of progressive nitrous, water injection, closed loop boost control etc. Vehicle speed sensing, logging of EGT (with external hardware.)
In most configurations, the MS3 + MS3X +V357 can be used by setting a few configuration jumpers inside the box. It requires little or no DIY effort inside.
Full TunerStudio compatibility, and with the TunerStudio registered edition the capabilities of MS3 are expanded even more!
The complete MS3 system uses the V3/V357 mainboard, the MS3 daughtercard, and MS3 Expander card. It is possible to run MS3 without the expander card if desired. This gives all the software features of the full MS33, including batch-fire fuel, SD card logging and USB-serial interfaces. However in this configuration the I/O that the Expansion card provides will not be available (direct support 8 channel fuel and spark, relay outputs or switch or spare analog inputs). Included is batch-fire fuel, SD card logging and USB-serial).  This configuration option may be of use to the more DIY orientated user who wants to upgrade from an existing MS1 or MS2.
For those wanting a complete, ready-to-go setup with harness, calibrations, etc then look at the PRO level of MegaSquirt3 products. These controllers repackage the MegaSquirt3 into a complete solution, with minimal fuss and effort.
Learn more about MS1/2/3X Features
---
MS3 is available from many of the MegaSquirt resellers, for use with the assemble-it-yourself V3 or the assembled V357 mainboard. Click the button below for a list of suppliers:
Features
View Suppliers to Purchase