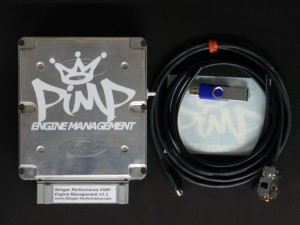 The Stinger Performance Plug-in Megasquirt 3 Powered (PiMP) engine control family are the most user-friendly and capable plug and play options available for Ford EEC-IV equipped vehicles. There are three different ECU's in the PIMP family currently available; PiMPx (batch fire), PiMPxs (sequential), and PiMPxshift (batch fire or sequential with transmission control), all of which are MS3 (Megasquirt 3) based, plus one legacy version (PiMP) that was MS2 (Megasquirt 2/Microsquirt) based that is no longer available new. The new family of PiMP ECU's use the latest MS3 firmware. Plug and Play means you remove the stock ECU, plug in the PiMP, run a vacuum/boost line from the PIMP to the engine, follow a few basic setup steps, plug in a wideband o2 meter, and it's ready to start up and begin tuning. It also allows you to remove the factory air meter (VAM on 2.3T cars, MAF on V8 cars) and run a filter directly off of your turbo or cold air intake tube.
All of the variations feature Tune Analyze Live which is an auto tuning capability built into the tuning software. This powerful feature will tune the fuel table on its own while you do nothing but drive around under varying conditions. This allows the end user to tune the idle and cruising portion of the fuel map to "better than stock" often in less than 30 minutes. Additionally, it comes with a base tune featuring dyno proven and safe timing maps that can be ran as provided or fine-tuned to your particular setup as you see fit. The PiMPx also allows for any injector size and type readily available for your application. When upgrading injectors, your new tune for larger injectors is only a few keystrokes away. The rev limit can be changed in seconds and the 2-step launch control feature can be configured to any trigger rpm and launch rpm you see fit. The PiMPx can trigger two stages of Nitrous or Meth/Water Injection as well as switch to different fuel, timing, and target AFR tables when these systems are activated. All of these features are configured to use the factory wiring harness and sensors for activation, though aftermarket switches can be used for activation if desired.
The ECU's are designed to run the ignition system stock to your vehicle by default. Many different Ford ignition systems are supported including TFI, DIS, EDIS, and when using the Internal Expansion Port, Individual Coil Packs with a Crank & Cam Trigger, or our CAS (Cam Angle Sensor) kit and our Coil on Plug Harness Kit. For non-stock ignition systems or fueling strategies, additional wiring modifications may be required.
The PiMPx and PiMPxs are designed to work in any EEC-IV (OBD-1) Ford vehicle (~83-95) or swap utilizing this drivetrain, while the PiMPxshift is designed to work in those same applications with AOD-E, 4R70W, or E4OD transmissions.
Read more at Stinger Performance.
Learn more about the Stinger PIMP and order one today!
---
The Stinger PIMP is available from Stinger Performance – use the link above to order. Click the button below for a general list of suppliers:
View Suppliers to Purchase